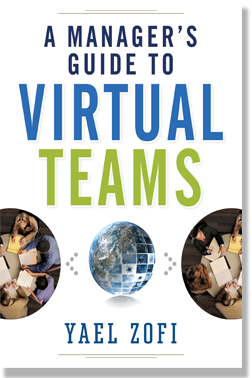 A Manager's Guide to Virtual Teams
by Yael Zofi
With an increasing number of employees working remotely, it is more difficult than ever to ensure that team members are working productively together. A Manager's Guide to Virtual Teams is a practical roadmap for bridging logistical, cultural and communication gaps that can prevent any virtual team from reaching its full potential. The four most critical elements to team success are explored:
Trust and Accountability - 10 tips for creating trust in virtual teams
Communication - the particular challenges of the virtual world, especially in cross-cultural collaborations
Conflict Management - examples, case scenarios, and resolution strategies
Deliverables - how virtual teams can get their work done faster and better
A Manager's Guide to Virtual Teams features the author's proprietary Wheel of Trust™ Model, which includes powerful tools to help teams develop and ensure trust without face-to-face interaction. Filled with self-study exercises, activities, and advice based on the author's 25+ years' consulting experience, this book can help any organization realize the promise of professionals working closely together even if they've never met and they are physically apart.